What Our Customers Are Saying
"The services offered were great!!!! This was my first time here (my dryer broke down at home) and I WILL RETURN !!!! You have created a very comfortable space for me to do my laundry."
– James Paino IV
"Best laundry EVER! Love all the wonderful attendants! Great Job!"
– Connie Boyter
"Very good experience! Wonderful staff ! Very sweet and helpful !!! Thank you for a great experience!!!!"
– Hazel Green
Tonight I used the laundromat located in Miracle Mile in Vero Beach and I would like to say thanks for such a nice place. Clean, friendly, extremely helpful and caring. I also liked the convenience of the cash card."
– Brenda Puzinas
"I do lots of laundry all at once and I find the location open 24 hours, relaxing, safe and well maintained. The WiFi allows me to work while I am there. The attendants are friendly and caring. It's the best place to do laundry!"
– Gean Cary Junginger, Jr.
"I've been coming to Sunshine for 11 years. Love how clean the laundromat is. The attendants are all friendly. Sunshine is the best!!!"
– Judy Krewson
"Been coming to Sunshine for years. I find the staff very helpful and friendly. Equipment is always clean and well maintained. Prices are reasonable."
– Doug Craner
Everytime I come to Sunshine, I am greeted with a friendly face and warm greeting. The attendants give me helpful hints on how to do my laundry in the most efficient way. Every attendant is so friendly and truly seems happy to be at work."
– Victoria McCalla

7 LOCATIONS
Sunshine Laundries has seven convenient locations on the Treasure Coast: Vero Beach, Ft. Pierce, Port St. Lucie and Okeechobee

OUR SERVICES
Sunshine Laundries offers a variety of services ranging from self-service to commercial pick-up. We can also do your laundry for you.

TESTIMONIALS
See what our customers say about us:
"Sunshine is Clean, Cool and Friendly."
Welcome to the Sunshine Laundry Centers
Our business:
Have been family-owned since our founding in 1977.
Is led Tom and Gerre Rhodes are the second generation to own and operate the business.
Mission is to have clean, safe, pleasant laundromats that serve the basic laundering needs of the community.
Seven locations to serve you in Vero Beach (2), Ft Pierce (2), Port St Lucie (1) & Okeechobee (2)
We feel that customer service is the primary reason for our success.
What can you expect when you visit one of our Sunshine Laundry Centers?
A cheerful, clean and well-lit facility
Top of the line, clean and well-maintained equipment
Conscientious and friendly attendants who take pride in their work
Most locations offer credit card payment systems
Air Conditioning and most important free WIFI
We appreciate and value our customers above all other things.
We credit our success to our focus on providing a great experience for our customers. We are always open to receiving customer feedback and suggestion on how we can improve our service.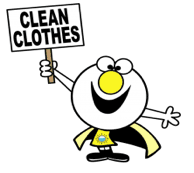 Giving back to the community

Involved in a non-profit and interested in being part of our Community Washer Program? Click here!