What Our Customers Are Saying
"I used one of your laundromats in Port St Lucie and I have to say it was my first time and the place made me feel very comfortable. I have been in other places before but your laundromat is one of the best places to do your laundry. The lady who works there was very friendly and kind and I was very comfortable with her helping me out and she is a very nice employee, sweet lady and great at customer service. Thank you so much and I will be keep using the laundromat again."
- Angel Delgado
"I have used your stores, both in Vero and the big one in Ft Pierce, for many years. You have top notch establishments and equipment, and I am proud to do business with you and support the charitable causes you promote."
- Randall Haligman
"Thank you very much for the wonderful drop off service today! Everything was beautifully clean, dry and folded and ready before I got there -- and even on a Sunday! The lady was very nice and attentive to my request. Thank you, made my sunshiny day!"
- Pauline
"The attendant was so helpful and cheerful...not only to me but to all customers that visited the laundromat. She was cheerful too and was keeping the place nice and clean. It was a great experience...who would ever think that doing laundry...thanks for the Internet too!"
- WJB
Sunshine Laundry is the cleanest and nicest Laundromat
I have ever been to! The machines are clean and efficient. Also, Karen was wonderful; very nice, friendly and helpful. Great customer service! Thank you!
- Desiree Wisser
"The services offered were great!!!! This was my first time here (my dryer broke down at home) and I WILL RETURN !!!! You have created a very comfortable space for me to do my laundry."
– James Paino IV
"Best laundry EVER! Love all the wonderful attendants! Great Job!"
– Connie Boyter
"Very good experience! Wonderful staff ! Very sweet and helpful !!! Thank you for a great experience!!!!"
– Hazel Green
Tonight I used the laundromat located in Miracle Mile in Vero Beach and I would like to say thanks for such a nice place. Clean, friendly, extremely helpful and caring. I also liked the convenience of the cash card."
– Brenda Puzinas
"I do lots of laundry all at once and I find the location open 24 hours, relaxing, safe and well maintained. The WiFi allows me to work while I am there. The attendants are friendly and caring. It's the best place to do laundry!"
– Gean Cary Junginger, Jr.
"I've been coming to Sunshine for 11 years. Love how clean the laundromat is. The attendants are all friendly. Sunshine is the best!!!"
– Judy Krewson
"Been coming to Sunshine for years. I find the staff very helpful and friendly. Equipment is always clean and well maintained. Prices are reasonable."
– Doug Craner
Everytime I come to Sunshine, I am greeted with a friendly face and warm greeting. The attendants give me helpful hints on how to do my laundry in the most efficient way. Every attendant is so friendly and truly seems happy to be at work."
– Victoria McCalla


8 LOCATIONS
Sunshine Laundries has eight convenient locations on the Treasure Coast: Vero Beach, Ft. Pierce, Port St. Lucie and Okeechobee
OUR SERVICES
Sunshine Laundries offers a variety of services ranging from self-service to commercial pick-up. We can also do your laundry for you.

TESTIMONIALS
See what our customers say about us:
"Sunshine is Clean, Cool and Friendly."
Welcome to the Sunshine Laundry Centers
Giving to the Community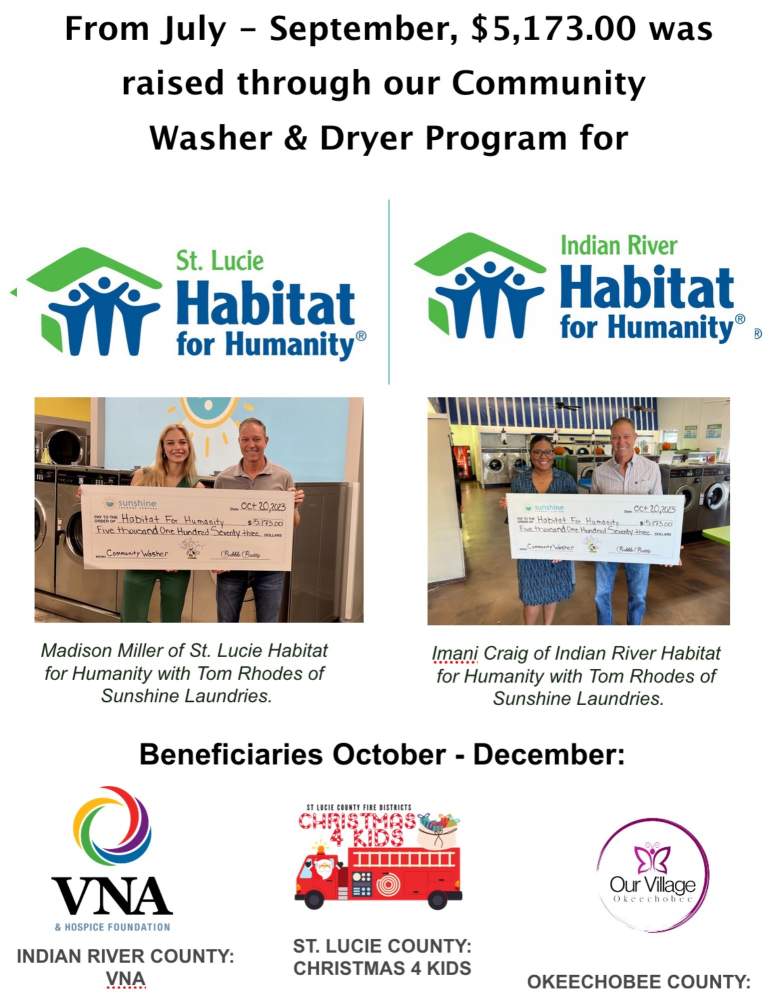 Involved in a non-profit and interested in being part of our Community Washer Program? Click here!
Our business:
Our mission is to have clean, safe, pleasant laundromats that serve the basic laundering needs of the general public.
We attempt to be fully integrated into community life by donating portions of our revenue to local charities every 3 months.
8 locations to serve you in Vero Beach, Ft. Pierce, Port St Lucie & Okeechobee.
Family-owned since 1977.
What can you expect when you visit one of our Sunshine Laundry Centers?
A cheerful, clean and well-lit facility
Top of the line, clean and well-maintained equipment
Conscientious and friendly attendants who take pride in their work
Credit card payment acceptance at most locations.
Air Conditioning and WIFI available at most locations.